Collaborative Community Network (CCN)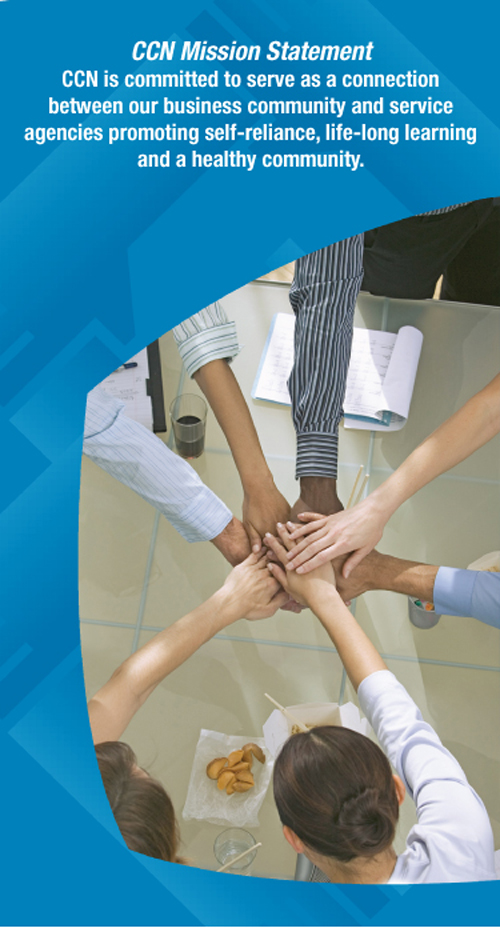 COLLABORATION . . .
Generally refers to individuals or organizations working together to address a variety of subjects and deliver outcomes that are not easily or effectively achieved by working alone.
Our FUTURE
The Collaborative Community Network (CCN) is moving toward great things! We encourage business, community based organizations, and education to join us monthly and grow CCN, not just in numbers, but in spirit and service to our communities.
Our HOPE
To bring together the region's top talent to foster collaboration on initiatives that aim to spur business and economic growth, job creation, and overall prosperity in the region.
Our Reason For Being
Connect on issues facing members, local business and the community
Provide first-hand information about resources in the community
To better serve our customers.
Blend, braid and leverage all resources
Identify and develop career pathways that benefit employers, workers and communities
Provide mentorship
WHO WE ARE:
We are a group of community based organizations, education and businesses from around the Southeast Los Angeles County area who interact once a month in an effort to better serve our residents and business community. We work to help one another and strengthen our own internal network. We invite members to share their own challenges and opportunities with this group to help solve problems and expand ideas.
Our MEETINGS –
What To Expect
• Special speakers
• Collaboration planning
• Workforce challenges and solutions
• Sharing of insights and expertise
• Networking
• Panel presentations
• Brainstorming
• Special events
Our VISION
• Foster and encourage the sharing of experts and resources
• Become a renowned resource for workforce development
• Act as the resource for education and knowledge that adds benefit to the community as a whole
• A mechanism to enhance employer/employee connections
---
We Would Like To Hear From You! Click On The CCN Logo Below.