For veterans, SELACO WDB offers priority of services including pre-employment preparation (full range of job search workshops), short-term vocational training, case management, support services, social service referrals, and job matching placement.
SELACO WDB partners with the EDD Veterans Employment Program Representative to assist veterans with career counseling, employment and training opportunities as well as offer resources and referrals to veterans and their spouses.
Veteran Services
Priority Services

Veterans receive Gold Card Services which includes preference for all our services.

Career Assessment and Counseling

Discover your aptitudes and interests and convert your military skills to civilian terms.

Job Search Assistance

Résumé, cover letter creation, interviewing skills and up-to-date job search strategies

Labor Market Information

Information on local wage rates, demand for skills and other labor market information

Resources and Referrals

Referrals to other programs that provide community based services outside of employment and training.
SELACO WDB on-site EDD Veterans Employment Representative
Assists veterans seeking employment and training, as well as, provides information concerning educational and medical benefits. Veteran Orientations held at the SELACO WDB, AJCC in Cerritos on the third Thursday of every month from 9am to Noon.
More Information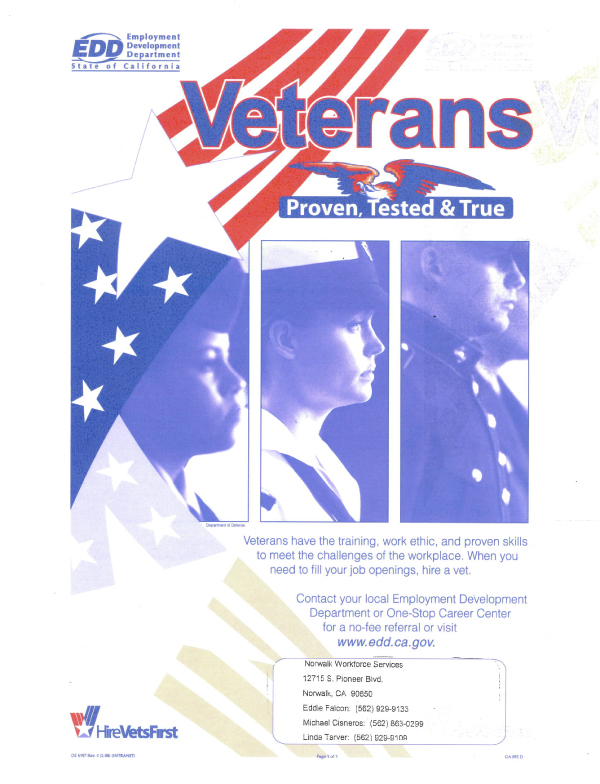 Jonas Project
Growing Veteran owned business opportunities through collaboration, not duplication.
SELACO WDB is proud to sponsor the Jonas Project which provides U.S. Veterans the support needed to create their own business. Veterans will receive mentoring from experts, and business services and resources to help ensure their success as entrepreneurs.
Jonas Project Website